Fast Residential Service for A/C & Heat Repair,
Installations, Maintenance!
Which Of Our Services Are Most Beneficial To You?
Let us know the best way to reach you and
we'll contact you soon to schedule your service!
* Indicates required questions
They have been servicing my home and our rentals for years now and the quality of service they offer is amazing.
They save us money by making sure our units are in excellent working condition and always give us heads-up when they believe more attention is needed. Scheduling with them is easily done and fast and the techs are very friendly. I highly recommend them.

- Anick C.
I would definitely recommend using Air Zone Cooling & Heating.
We decided to get our unit replaced in conjunction with a roof replacement. Jacob worked with our roofer to help facilitate an easy roofing. He was professional, kind (kiddos wanting to watch EVERYTHING), on time, cost effective, and efficient. He did not try to sell us anything we didn't need and listened to what we actually wanted.

- Jenna F.
Air Zone Cooling & Heating is one of the most dependable companies I have ever used.
We own two houses and have had to use Air Zone on several occasions. They have always been able to come out the same day, which is essential when your air conditioner goes out in the middle of summer in Vegas. I would highly recommend them.

- Theresa G.
We're One of Las Vegas' Highest Rated Providers of A/C & Heating Services!
Looking to Save on Service Costs?
We offer fast and affordable solutions for keeping your Las Vegas home comfortable.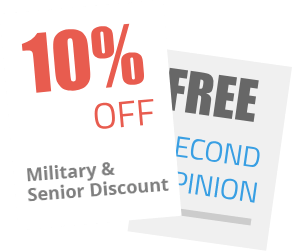 Dependable Air Conditioning & Heating Services in Las Vegas for Over Two Decades. Air Zone Cooling & Heating is a family-owned, full-service heating and air conditioning business located in Las Vegas, Nevada.
We maintain, repair, and install all makes and models of energy-efficient heating and cooling systems and have been providing reliable services for our Las Vegas customers for many years. Our growth is due to our exceptional service and delivering 100% satisfaction to each and every one of our customers. We believe in creating long-term relationships so you can count on our technicians to provide the absolute highest level of service in the HVAC industry!
Trusted service & repairs from Las Vegas' most reliable HVAC company. Accurate diagnostics. No overtime fees! Las Vegas' first choice for fast & affordable air conditioning installation & repair. Get quick relief from the heat!
We know the climate conditions in Las Vegas are extreme, so a properly working air conditioning unit is essential.
Air Zone Cooling & Heating has been around for many years, and we know how hot Vegas can get!  And, not all air conditioning repair and heating repair companies are the same. The climate conditions in Las Vegas are extreme, and you need a company that understands those challenges.
Our team is licensed, bonded, insured, and understands all things HVAC, as well as the importance of a functioning unit in Las Vegas. In the HVAC industry, energy-efficient solutions are key. At Air Zone Cooling and Heating, we've empowered our team to design and execute industry best practices to ensure that your heating and cooling system operates with ultimate efficiency.  We want to help you keep your home comfortable, reduce your impact on the environment, AND to lower your bills! 
Our expert air conditioning technicians are trained to address your concerns and answer all your questions such as "Why is my air conditioner making that noise?" "Why is my air conditioner blowing warm air?" "Why is there a stuffy, moldy smell?" Further, most people don't know that water leaks coming from the unit can be a sign of more serious issues. We diagnose and provide repairs immediately, and we can recommend and install a new energy-efficient air conditioner if needed.
For preventative maintenance that keeps your air conditioner working optimally and prolongs the life of your unit, get on our yearly maintenance program. It includes a 20-point inspection of your AC and you will save money on your energy bills, too.
Heating and Furnace Service
Call Air Zone immediately if you are experiencing any of the following issues related to your heating system or furnace: gas leak or gas smell, rotten egg smell or electrical burning smell, loud and unfamiliar thumping or squealing noise, or even if your pilot light has gone out. Your safety and comfort is our priority. Our technicians are trained to quickly diagnose and fix these problems, and more. Besides repairs and service, we can come out and give you a free estimate for a new furnace installation.
To prevent these problems and others before they start, get on our schedule for our yearly maintenance program. It not only includes a 20-point inspection, but also a warranty on parts and labor, plus same day replacement on parts.
If you're in the Greater Las Vegas area looking for reliable HVAC services, look no further and contact Air Zone Cooling and Heating today!
Air Zone's Services Include:
We Service the Following Brands of Heating and Cooling Equipment: