3 Reasons to Schedule End of Season AC Maintenance
January 14, 2021
/
/
Comments Off

on 3 Reasons to Schedule End of Season AC Maintenance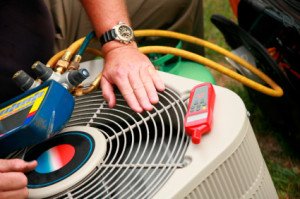 Most of us know that air conditioners require regular maintenance. Annual tune-ups help air conditioners run more efficiently and help increase the lifespan of the air conditioner. With summer behind us and temperatures slowly growing cooler, you might not be thinking about your air conditioner as much as you were in recent months. Did you know that there are 3 benefits to scheduling your air conditioner maintenance for the end of the season?
1. Hindsight is 20/20 – If you schedule air conditioning maintenance at the end of the season, you can share what you've observed over the summer with the technician. This may help them get a better idea of what your AC unit may need in terms of service and corrective maintenance.  
2. Availability – Since fewer people schedule service at the end of the season, it is easier to get a technician to your home at a time convenient for you. If you wait until the spring, you will likely have to juggle your schedule to ensure that you'll be home to meet the technician.
3. Preparing for failure – Air conditioners have a lifespan of about 15 years, especially in environments like Las Vegas because our air conditions get a workout! With an end of season tune-up, you will have several months to budget for a new air conditioner in the event that your technician discovers that your air conditioner is on life support.
If you reside in the Las Vegas area, you should ideally have your air conditioner serviced at both the beginning and end of the season, especially if you run it for long periods of time day in and day out. However, if you only use the AC during the hottest months of the year, you can probably get away with servicing it just once a year. In which case, fall is an excellent time to schedule a tune-up.
No matter what your AC needs are, the experts at Air Zone Cooling & Heating are at your service. Whether you've been experiencing problems with your AC unit, or it's just time to schedule regular maintenance, contact us today!
All content provided on the Air Zone Cooling & Heating blog is for informational purposes only. The owner of this blog makes no representations as to the accuracy or completeness of any information on this site or found by following any link on this site.
Let us know the best way to reach you and we'll contact you soon to schedule your service!
* Indicates required questions