Las Vegas Air Conditioning Tip: How to Correctly Clean Your Air Conditioner Filter
January 13, 2021
/
/
Comments Off

on Las Vegas Air Conditioning Tip: How to Correctly Clean Your Air Conditioner Filter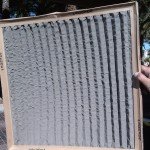 In order for an air conditioner to be able to function efficiently, being able to push air between each room of your Las Vegas home by allowing air to flow through the evaporator and then out the vent slits, it needs to be properly cleaned. If your air conditioner's filter becomes either clogged up with debris or completely blocked, it forces the air conditioner to function at a faster pace to get the same amount of air flow as before, which causes an increase in electrical bills and inefficient performance.
The purpose of the filter in your Las Vegas air conditioning system is to prevent dust and other small items from getting into the motor of the air conditioner. However, that doesn't just get rid of this filth; it just catches it and sits there until it is cleaned. Without a proper filter, all of this mess would end up inside of the air conditioner, and it would no longer be able to function correctly. This would greatly restrict the cold air flow until it could no longer pass through.
You should clean your system at least once a month if you live in an area with lots of smokers or pets. This will keep the filter clear and able to work effectively. At a minimum, clean your filter once every month.
Some common air filters are electrostatic. These types of filters can be washed with warm water and a bit of soap. You can set the filters outside and wash them off with a garden hose and use good pressure. If they are very dirty, you can spray them with any household detergent and then spray off. Make sure the filters are rinsed well to prevent soap from remaining in the filter. Let filters air dry and try not to reinstall until they are completely dry.
For Las Vegas air conditioning maintenance or assistance with your air conditioning filter, contact Air Zone Cooling and Heating!
All content provided on the Air Zone Cooling & Heating blog is for informational purposes only. The owner of this blog makes no representations as to the accuracy or completeness of any information on this site or found by following any link on this site.
Let us know the best way to reach you and we'll contact you soon to schedule your service!
* Indicates required questions