Replacing Your Las Vegas Air Conditioning Thermostat
January 13, 2021
/
/
Comments Off

on Replacing Your Las Vegas Air Conditioning Thermostat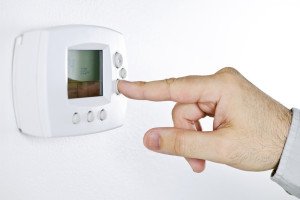 Searching for ways to save money on a utility bill is always smart, so why not look at how you regulate the temperature of your air conditioner? An old-fashioned manual-dial thermostat is costing you money, but it's a quick and simple project to upgrade to a new programmable one.
This project pays dividends in more ways than one. You'll save money on actual electricity usage for your air conditioning, plus you'll wind up saving time by having the convenience of pre-setting the desired temperature range ahead of time. The new thermostat will also be operating efficiently while you sleep or when you're away from your Las Vegas home.
Replacing the old manual unit with a new programmable one is a simple task that takes very little time. The technician will begin by shutting off the power to your heating and air conditioning system on your breaker box. Most of the time you will encounter two lead wires; the technician will then remove the existing thermostat from the wall, taking the precaution of labeling the wires before disconnecting them.
The technician will then examine your new thermostat to confirm that all packaging material has been removed and that it's ready to install. He will locate where the two lead wires will be attached and thread the wires into the appropriate places and he will make certain that the new thermostat is going in consistent with where the old one was secured.
Following the instructions that came with the new thermostat is also important. Take the time to read through the paperwork that came along with your new thermostat so you'll be familiar with the functions and features of your new thermostat.
Now you're ready to lower your electric bill by using your air conditioning system more efficiently.
All content provided on the Air Zone Cooling & Heating blog is for informational purposes only. The owner of this blog makes no representations as to the accuracy or completeness of any information on this site or found by following any link on this site.
Let us know the best way to reach you and we'll contact you soon to schedule your service!
* Indicates required questions