Signs You Need to Schedule Las Vegas Air Conditioning Compressor Repair
January 13, 2021
/
/
Comments Off

on Signs You Need to Schedule Las Vegas Air Conditioning Compressor Repair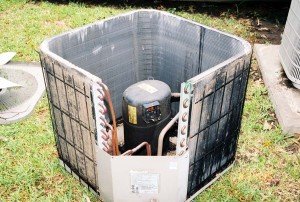 As the weather starts heating up in Las Vegas, everyone turns to their air conditioning for some relief from the stifling heat and humidity. In order for the unit to provide relief, be energy efficient, and work properly, it needs to be functioning. One of the key elements of the air conditioning unit is the compressor. The compressor is a crucial component of this HVAC system. If you are questioning the condition of your air conditioning, it could be the result of a broken compressor. You can have the unit evaluated by an air conditioning expert at Air Zone Cooling & Heating in Las Vegas. They will look at the air conditioner and determine if there is a problem. If a malfunction is discovered, the professionals at Air Zone Cooling & Heating will repair the problem in the most efficient manner.
Here are some signs that there is a problem with the air conditioning compressor:
Reduction in or No Cold Air
You turn the air conditioning on and it seems fine. It sounds like its working, but suddenly you notice that there is no cold air being released from the vents or a lesser amount of cold air than usual.
Unusual Noises
After turning the unit on you notice strange sounds that sound like squealing, rattling, or even a growling noise, this could be the result of a malfunction with the compressor.
Hard Start
If the air conditioning unit has trouble starting up or if it sounds like the inner parts of the unit are not working simultaneously, this could be the result of a compressor issue.
Circuit Breaker Shortages
If the unit's circuit breaker shorts out after the air conditioning is turned on, this could also be a sign of a compressor problem.
At times the compressor repairs are as simple as replacing a blown out fuse, while other times it could be the wiring that needs replacing. Sometimes the compressor may be experiencing internal damage. The only way to truly discover the problem is to bring it to a trustworthy professional, a certified expert who is equipped to properly diagnose and repair your air conditioning. All of this at a fair and honest price and completed by experienced and knowledgeable professionals.
Escape the Las Vegas heat with a properly functioning air conditioning, and all it takes is one simple call to Air Zone Cooling & Heating at 702-240-9663.
All content provided on the Air Zone Cooling & Heating blog is for informational purposes only. The owner of this blog makes no representations as to the accuracy or completeness of any information on this site or found by following any link on this site.
Let us know the best way to reach you and we'll contact you soon to schedule your service!
* Indicates required questions