January 13, 2021
/
/
Comments Off

on What is an Air Handler?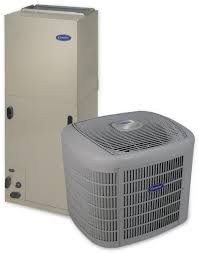 For many homes in the Las Vegas, Nevada area, the heating and cooling system is an integral part of daily living. With freezing conditions in the winter and sweltering 100-degree temperatures come summer, your HVAC system may run for most of the year. Understanding its individual parts, including the air handler portion, allows you to troubleshoot and upgrade the system to match your unique needs.
Air Handler Anatomy
Central air systems consist of two main parts: the outdoor and indoor units. The air handler is actually the indoor unit that you find hidden in a closet or attic. Although it is a huge, metal container to the untrained eye, it houses many different components. For example, you'll find the filter, filter rack, heating source, blower, electrical wiring and evaporator coil all connected into one assembly. There should be a large vent directly in front of the air handler to allow for ample air flow into the system.
Moving The Air
The air handler pulls air into the system using the blower. With the help of pressurized refrigerant moving from the outdoor unit, the handler cools or heats the air, depending on the thermostat setting. Attached ducts provide tunnels for the forced air to move into individual rooms. Air then circulates back into the handler for another cooling or heating process.
Component Failures
Your air handler needs repair and maintenance to keep all components clean and functional. Both coils and ducts build up dust debris that hinders efficient operation. If maintenance is neglected, components break down, requiring a technician to troubleshoot and repair parts.
Filter And Blower Considerations
Air handlers are often placed in confined spaces, minimizing air movement through the filter. When you contact Air Zone Cooling and Heating, our technicians are highly trained in system efficiency. Venting and filter options allow you to alter the air handler's incoming air flow for better cooling or heating throughout the home. You could possibly save on energy costs too. Even your blower can be evaluated. With various blower sizes, your home's humidity control is partially controlled by the blower's action, removing moisture from the air. Air Zone Cooling and Heating can determine the best blower size for your system to keep humidity to a minimum.
Contact Air Zone Cooling and Heating today. Serving the greater Las Vegas area, technicians will evaluate your home to keep temperatures comfortable and allergies at bay.
All content provided on the Air Zone Cooling & Heating blog is for informational purposes only. The owner of this blog makes no representations as to the accuracy or completeness of any information on this site or found by following any link on this site.
Let us know the best way to reach you and we'll contact you soon to schedule your service!
* Indicates required questions