Identifying a Capacitor Breakdown
January 13, 2021
/
/
Comments Off

on Identifying a Capacitor Breakdown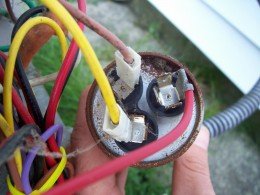 What is a Capacitor?
There are two types of capacitors used in both heating and cooling systems and their main purpose is to temporarily store electrical charges. The two types are run and start capacitors. Run capacitors are used in furnaces, heat pumps and air conditioners. They run the compressors as well as fan motors. They are also important in increasing torque when one of those systems starts up and they are involved in maintaining a consistent voltage as the system operates. Start capacitors are found only in heat pumps and air conditioners to provide the initial power at start up.
The capacitor is an extremely important part of air conditioning units in particular. Not only do they start the entire motor system, but they also keep those motors running while the unit is in use. Without a functioning capacitor the unit will not work or will short cycle.
Capacitor Breakdown
Air conditioners work very hard in the summer to remove warm air from your home and push cool air in. Capacitor failures are the most common reason that air conditioners break down. The heat generated by the capacitor coupled with the hot summer weather can cause the capacitor to overheat. It is possible for capacitors to either completely stop working or just lose their operating range, but the results are the same – no air conditioning. The vents in your home will not blow any air at all if the capacitor has broken down and your unit outside will make a humming sound, but the fans will not be turning.
AC Repair and Maintenance
If you live in Las Vegas and suspect your capacitor has broken down don't hesitate to contact Air Zone Cooling & Heating. A professional HVAC technician with the proper tools can perform a final diagnosis and repair capacitor problems quickly and easily. Air conditioning repair should always be left to the professionals due to risk of electrical shock.
To ensure that your air conditioner runs smoothly through the summer months and to avoid needed repairs at all you should change the air filters every month. It is also a good idea to hose down the outside unit and vacuum the return and supply registers or you can sign up for an affordable preventative maintenance plan.
All content provided on the Air Zone Cooling & Heating blog is for informational purposes only. The owner of this blog makes no representations as to the accuracy or completeness of any information on this site or found by following any link on this site.
Let us know the best way to reach you and we'll contact you soon to schedule your service!
* Indicates required questions