Safe Air Conditioning Unit Removal
January 13, 2021
/
/
Comments Off

on Safe Air Conditioning Unit Removal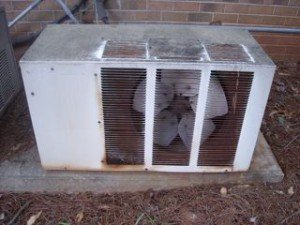 Old air conditioning units suck up energy and cause you to waste your hard-earned money on high electricity bills. If your air conditioning unit is old and not very energy-efficient, it's time to play catch-up with technology and invest in a newer, better-functioning unit.
But before you wrench your air conditioning unit out of your window and dump it onto your truck in anticipation of a trip to the landfill, wait and learn. It is not recommended for you to dispose of an air conditioning unit on your own. Not only is it illegal for you to dispose of such units yourself, it's also potentially harmful to you as the handler.
Air conditioning units made in the mid-1990′s and earlier contain chemicals called refrigerants. These chemicals ensure the cool air is blown out of the unit in order to regulate room temperature. They are harsh chemicals which are known to contribute to the destruction of the Ozone layer. The ozone layer is the component in our atmosphere that protects all of life on earth from harmful ultra violet rays. Needless to say, for this reason, the United States government has regulated the release and the use of refrigerants such as Freon.
The proper disposal of items that contain refrigerants require the use of a certified piece of equipment which aids in releasing the refrigerant. The chemicals are then recycled. However, you cannot take charge of this yourself. This procedure should be done by an HVAC technician or a similarly certified professional.
If you're dealing with old air conditioning unit, Las Vegas offers removal services to make this transition easier for you. The best way to get rid of your old air conditioner is by enlisting the services of professional air conditioning removers such as ourselves. We leave your place tidy and free of trash when we take your old air conditioner out of your way. We properly release the dangerous chemicals and dispose of them as per the federal regulations outlined in the Clean Air act.
Don't bother with the technicalities of removing air conditioning units in order to upgrade to newer ones. Just call us and we'll take care of everything, including the trash associated with the removal of an old unit. Don't risk the hassle of legal issues resulting from laws which prohibit you from doing this job yourself. Rid yourself of your unit and install a new one immediately thereafter. No worries, no cleaning, no hassle.
All content provided on the Air Zone Cooling & Heating blog is for informational purposes only. The owner of this blog makes no representations as to the accuracy or completeness of any information on this site or found by following any link on this site.
Let us know the best way to reach you and we'll contact you soon to schedule your service!
* Indicates required questions